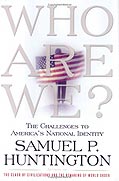 If the Mexican Army attempted to infiltrate 1,000,000 soldiers per year into the United States and successfully placed 150,000 of them here, the citizens and Congress of the US would be in a unanimous uproar of outrage. Yet, 150,000 Mexicans, mostly young men, DO successfully enter this country each year. And the Mexican government does, in fact, spend 10s of millions of dollars on programs that encourage them to do so as well as stay here after they arrive.
Who Are We: The Challenges to America's National Identity by Samuel Huntington clearly frames this controversy among several critical issues facing the US. These choices will determine our country's course in dramatic ways over the coming decades and beyond. I can't recommend it strongly enough for any concerned citizen.
Many academics fail to maintain a clean distinction between the descriptive and the prescriptive in their writings, Huntington successfully avoids this classic trap. His point of view on the issues is fairly clear, but he does not let his own views contaminate a crisp analysis of the problems.
The crux of the book is a discussion and analysis of what strategic choices First World countries face in the indisputable facts of aging and declining indigenous populations. No First World country is growing or even maintaining its population through reproduction of its citizens. So, all must renew themselves, if they wish to be competitively productive, through immigration policy.
The three fundamental choices are most clearly illustrated by Japan, Germany and the US. Japan allows NO immigration and faces an aging and declining population. Germany allows guest workers, but citizenship is denied and assimilation is strongly discouraged as a matter of state policy, leading to enclaves of disenfranchised, alienated and mostly Islamic foreigners, some of whom have still lived in Germany for several generations. The historic US model is to strongly encourage assimilation through both official and unofficial means which has generated much friction, but also a continual, powerful force for renewal in American society.
Huntington argues that only in the last 40 years, something fundamental has changed in the classic American approach to immigration and assimilation. A key contributing factor is a change is the composition of our immigrant populace. For the first time in our history, the majority of new immigrants speak one language, Spanish, and most come from only one country, Mexico.
A significant chunk of the book is also a biography of Americans as a people: who we are, where we came from and what we really believe. The book is full of carefully documented descriptions. Much of the data contradicts much conventional wisdom we hold about who we are. Mass media continues to propagate many of these myths.
For instance, we all know the well known quote about the US as "a nation of immigrants". However, Huntington makes a careful distinction between the original settler people who came here and hacked a society out of the wilderness. (And yes, over the bodies of the native Americans), and the subsequent immigrants who fled other oppressive societies to come to a new but existing society of promise and opportunity. The surprising factoid is that in fact descendants of the original settler peoples remained a majority of the population of the US until the middle of the twentieth century!!! It is not until a massive wave of new immigration began in the 1960s, that the original Anglo-Protestant stock became a minority over the subsequent 40 years.
I could go on, but would wind up paraphrasing most of the text. Just READ IT!! Even if you don't agree with his points, it is thought-provoking and full of surprising data.