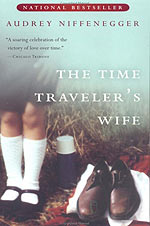 The concept of time traveling has been explored in many classic tales, but usually the time traveler goes back in time hundreds of years ago where there's no chance of running into someone she knows. What if you went back in time and actually interacted with your younger self, or forward with your older self? In Audry Niffenegger's The Time Traveler's Wife, the protagonist Henry De Tamble has a genetic disorder – "Chrono Displacement" – in which he unwittingly leaves the present moment and is transported backwards and forwards in time. As a middle aged man he travels back in time and meets is future wife when she is only 6 years old. He visits her frequently as she grows up, though when she finally meets him in the present time, he doesn't know who she is, because in the present, he is just meeting her for the first time. Time traveling is not as romantic a notion as one might think. It is dangerous for Henry as he is always transported naked, and therefore arrives naked, and often in freezing weather and around unsavory characters. Henry must learn to pick-pocket and steal, just to survive.
The Time Traveler's Wife has an intriguing premise, pushing the reader to think about the the actual ramifications of time travel. What makes this book special is the touching relationship that Henry develops with his wife Clare. Half of the book is told in her voice, so we see the relationship from both perspectives. This works particularly well in the audiobook version, which is how I read this book (through Audible.com
). Christopher Burns and Maggi-Meg Reed narrate the book and do a lovely job.
Touching, thought provoking, highly recommended.