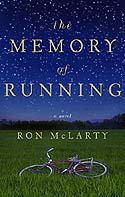 Smithy Ide is a 43 year old drunk – overweight, friendless, and when he can think, disgusted with himself. After the funeral of his parents who die in a car accident, Smithy finds an unopened letter to his parents from a mortuary in California. The letter says that the mortuary is holding the body of Smithy's sister Bethany, an indigent whose identity they've been able to match with dental records. Still in a drunken fog, Smithy finds his old Raleigh bike in their garage, and sets off down the road, flat tires as all. Thus he unintentially sets off on a bike journey across the country and in the process comes to terms with his life and the loss of his beautiful sister who couldn't escape the voices in her head.
I downloaded The Memory of Running from Audible.com based on the hundreds of positive ratings readers gave it. For the first several hours of listening, I didn't like it at all. Here were the ramblings of a pathetic, do-nothing loser. Where was this story going? But gradually, it wore on me. As Smithy sobered up his story drew me in. Smithy had let himself go to pot, so to speak, and as his story unravels we learn that he is basically a simple, moral person. Author Ron McLarty notes in the audiobook's afterword that Smithy's one gift is that of the ability to listen. It's through this gift that we meet many people on Smithson's journey and are touched by their unique stories as well.
The Memory of Running is meant to be heard, not read. Author Ron McLarty is professional actor, playwright, and narrator and does a terrific job narrating this story. I've read some reviews criticizing some of the writing in the book and I think I would be more critical too, if I had read it rather than listened to it. As it is told in the first person, the book is written how Smithy thinks; sometimes he's not all together coherent. He's not particularly articulate. He's a regular Joe, and critics aside, most people aren't English majors. The book requires surrendering to the character. It requires patience to hear out the story. Fortunately McLarty is a skillful storyteller.
Recommended.
Links:
A review of The Memory of Running by Roland Allen.