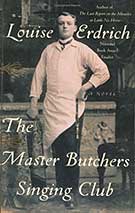 That Louise Erdrich likes to tell stories becomes obvious from the reading of her novel The Master Butchers Singing Club. She never races through a tale, but takes her time, dissecting every nuance in delicious detail. The book's central character is Delphine, whom we meet as she is returning home to Argus, North Dakota in the early 1930s with her balancing act partner Cyprian to care for her father, the town drunk. Delphine is a survivalist – a hard working, tough love, feet-firmly-planted-on-the-ground woman. She befriends Eva, the wife of the local butcher, Fidelis Waldvogel, who had immigrated to Argus from Germany after the first world war. Fidelis starts a singing club, the members of which make up many of the contributing characters of the story.
I had expected that the book would be about Fidelis, as the title had suggested "The Master Butcher". And it is, in that all of the stories and subplots relate to Fidelis and his family. But the novel really centers around Delphine and her struggles to survive and to help the people she loves. The novel is rich with subplots involving the various residents of Argus – Clarisse, the town mortician, Hawk, the love-struck sheriff, Step-and-a-half, the town rag collector, Tanta, Fidelis's spiteful spinster sister, and others. At times the novel reminded me of Sherwood Anderson's Winesburg Ohio, with its bizarre midwestern characters all not-so-loosely connected.
I've read some other reviews of The Master Butchers Singing Club that didn't like the wandering subplots. I for one found the novel deeply satisfying. Erdrich writes simply and well. She paints vivid scenes that become etched in one's mind. I can see Tanta in her shiny silver suit, striding forcefully through the town looking for a job. I can see Delphine's father's house so layered with garbage, vomit, and piss that it takes months to clean out. I see Step-and-a-half's notions shop with the brand new sewing machine in the corner. Sometimes Erdrich lingers too long with the inner thoughts of some of the characters. My reaction when that happens is, this is a woman writing. Men don't write this way. I don't think my father would have the patience for this book. But my mother would love it.
In the end, The Master Butchers Singing Club is about love, loyalty, tragedy, and redemption. It is about how small actions of good will can change the course of lives. I highly recommend it. The audiobook, in particular, is well done – read by the author herself. Available at Audible.com.