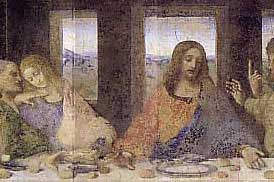 Dan Brown got it right this time, and The Da Vinci Code is a kick. It unfolds as a thriller wrapped in a riddle inside an enigma. The thriller races along as the characters solve puzzle after puzzle to crack the DaVinci Code. (Even his web site is fun – it presents a series of puzzles which need to be solved to get deeper and deeper into the site.) One can enjoy the thriller, or the puzzles, or what I truly found fascinating: the enigma behind it all. Was the message of Christ hijacked by the church hierarchy in the First Century, and later institutionalized into the Roman Empire under Constantine? Did heresy become orthodoxy?
The book weaves together two thousand years of conspiracy theories in a tapestry of stunning proportions. In here threaded together are the Priory of Sion, the Knights Templar, Mary Magdelene, the Holy Grail, and much more. In here is a glimpse of what the Church might have been – a Church without heretics, without Inquisitions, without intolerance, and without the Holocaust. In here is a story where the very people who should protect, preserve and live the secret, fall prey to the allure of ultimate power.
The enigma is no small matter. Gibbons masterpiece – The Decline and Fall of the Roman Empire – asserts that the Christianity of Constantine caused the fall. Untold horrors have been perpetrated in the name of the Lord of Peace. Militaristic fervor abounds over the actions of Islamic Fundamentalism, which often pale in comparison with the skeletons in the closet of our Church. We should constantly remain sensitive to the wisdom of Lincoln, who, when asked during the Civil War if God was on our side, said he rather hoped that we were on God's side.
And we should find the time to truly enjoy and relish popular fiction of this magnificence.