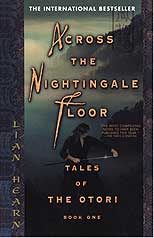 Across the Nightingale Floor, by Lian Hearn, is the first of three books in the Tales of the Otori trilogy, a fantasy epic placed in feudal Japan. Young Tomasu is rescued from a massacre of his village by Lord Otori Shigeru who gives him the name "Takeo" and adopts him into the Otori family. Takeo's village is destroyed by the evil warlord Iida because the villagers are members of a secret, peaceful Christian-like sect. Otori Shigeru, Iida's sworn enemy, discovers powerful ninja-like talents in young Takeo and together they plan to take revenge on Iida. Meanwhile, beautiful Shirakawa Kaede is held hostage by another warlord, an ally of Iida's. Betrothed to Otori Shigeru as a pretense for Iida to lure Shigeru into his castle, Kaede and Takeo meet and fall in love.
Thus begins the Tales of the Otori – Harlequin romance novel meets Kurosawa's Seven Samurai, with a little Crouching Tiger Hidden Dragon thrown in. Apart from some graphic sex and the ongoing violence, this series would be perfect for the teen market. It is a classic tale of heros and heroines, overcoming all odds to rescue the world from evil and to find true love. The writing is fluid, well paced, and beautifully descriptive of the Japanese landscape and customs. As a 20 year practitioner of a Japanese martial art, and someone who lived in Japan for a year, I loved every word. There is a famous castle in Kyoto that has a "nightingale floor" around the living quarters. It chirps with every step someone makes; it was designed to warn the Shogun of an assassination attempt. As with the nightingale floor, many details of unique Japanese customs are delightfully woven into the story. If I can mention one shortfall of the books it is that they tend to teeter on the overly melodramatic. Our hero Takeo is no hyper macho samurai, but often filled with self-doubt. The book is obviously written by a woman (Lian Hearn is a pseudonym) and I suspect that more girls will like it than boys. That said, if you can bear through the melodramatic parts, and some slooooow tea serving scenes, there's quite enough action to keep most people glued to the story.

In Grass for His Pillow, the second installment of Tales of the Otori, Takeo relinquishes his claim to the Otori inheritance and is taken by "The Tribe", a secret group of assassins who have magical abilities. Here Takeo trains his own talents but must ultimately choose between conflicting loyalties. Kaede returns home to find her estate in ruin and must develop the inner strength needed to secure the loyalty of her father's men and claim her inheritance.

Brilliance of the Moon is the dramatic conclusion of this epic tale. The earth shakes, the seas churn, and many heads roll to bring our story of love, allegiance, and honor to a close.
I listened to all three books on my iPod while commuting to the Bay Area, using Audible.com
's wonderful service. With audiobooks or audiofiles, the quality of narration can vary between different recordings. In the case of Tales of the Otori, however, the narration is superb throughout. Narrators are Kevin Gray and Aiko Nakasone.