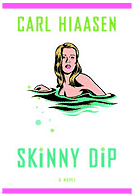 What a howler. Reminiscent of Mickey Spillane, Carl Hiassen's Skinny Dip starts with crooked sleeze-ball Charles Perrone throwing his wife off a cruise ship miles away from the coast of Florida. Unbeknownst to Chaz, his wife Joey, was a champion swimmer and athlete in college, and turning her fall into a dive, survives the fall, swims to near exhaustion, eventually latches on to a floating bale of marijuana, and is picked up out of the ocean by a retired cop Mick Stranahan. Joey doesn't understand why Chaz tried to kill her and spends the bulk of this hilarious story with Stranahan figuring out why and taking revenge by driving her husband crazy. The book is filled with great character sketches – Tool, a pain-killer addicted hired thug who gets reformed by the terminally ill old lady whose meds he tried to steal, Red Hammernut, the agribusiness tycoon who is paying off Chaz to falsify water quality records so he can keep his polluting enterprise up and running, and Karl Rolvaag, the homicide detective who keeps two albino pythons and when they escape is disturbed when the yappy dogs of neighbors go missing.
Joey is a force to be reckoned with, and gives new meaning to the saying, "don't get mad, get even." Boy does she and how.
I listened to the abridged audiobook from Audible.com
read by the author himself. Hiassen does a superb job narrating this story. He and the story remind me of the great old radio drama shows. It's so entertaining, you can pick it up almost anywhere in the story and be racked with laughter. In fact, I played some for my dad while driving and he was still chuckling 20 minutes later.