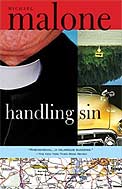 If you like rolicking, picaresque novels, you will love Handling Sin. Written in the '80s(?), it remains one of my favorites.
A mild mannered insurance agent is sedately approaching middle age, living out his comfortable life in a small No. Carolina town. He receives news that his vagabond father has passed away, but to receive his inheritance he has to track down his father's trumpet, last seen in the possession of a young, attractive black woman who may or may not have been his father's mistress.
The hero rounds up his S. Panza-like sidekick and off they go on a madcap quest across the South. After many hilarious adventures they also absorb a few life lessons. Can't really describe many details without giving away a few surprises. So give it a try.