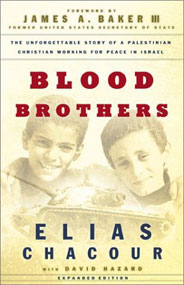 Elias Chacourt is a Melkite Catholic priest and a Palestinian. Blood Brothers is at once the story of Elias' life growing up by the Sea of Galilee and an impassioned plea for reconciliation between the forces that have torn that area apart during this last century. It is a simple, beautiful, and deeply moving story of one man's work to heal the conflict in his homeland. The title comes from Elias recalling his father inviting Jewish neighbors in for tea when Elias was a young boy, explaining to the children that the Jews and the Palestinians were "Blood Brothers" as they shared the same father Abraham.
What is so striking to me is the absence of a balanced view of the Israeli Palestinian conflict in what we Americans have been told over the last several decades by our government and the press. What most Americans do not know is that in the late 40s the Israeli zionists forced the Palestinians off of the land on which they and their ancestors had lived for hundreds of years, thus setting off the division and conflict that we live with today. No wonder Palestinian militants are blowing themselves up. They want their land back.

It is hard to write about this subject without being drawn to take a angry stand on one side or the other. I myself am disgusted and feel betrayed by my own culture that has left the Palestinian story so untold. Everything we read and hear has to to with framing them all as terrorists. One friend even angrily exclaimed to me one day that the Israelis should simply kill every Palestinian. Might equals right is always available to us as an option; it has certainly proven its effectiveness throughout history. Machiavelli made a pretty compelling case for this option in The Prince.
Chacour however argues for a different approach, one based on forgiveness, compassion, and cooperation. He is angry at the world's indifference to the Palestinian situation to be sure. But his stand for a peaceful reconciliation trumps all anger. Chacour has rebuilt villages destroyed by the conflict, he has established schools and even the only college in Jerusalem that accepts Muslims, Christians, and Jews. He has been nominated for the Nobel Peace Prize three times already. And he continues to work for peace in the Holy Land.