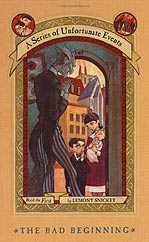 "It's not Disney," explained one child upon being asked why he liked Lemony Snickett's dark and dismal Series of Unfortunate Events. Kids seem to love this book series about the three Baudelaire children – Violet, Klaus, and Sunny – whose parents died tragically in a fire and who spend most of their time trying to evade the evil Count Olaf, a master of disguises who plots to steal the orphan's fortune. Violet is the oldest with a knack for inventing, Klaus the younger boy who loves to read and study, and Sunny, the baby with 4 exceptionally strong and sharp teeth. The books in the series have predictable plots. In each, Mr. Poe, the Baudelaire's hapless executor, appoints a guardian who is often a distant relative of the children who proves to be incapable of keeping Count Olaf away. The adults in the stories are all fooled by the Count's disguises and don't listen to the children who are never fooled. It's up to Violet, Klaus, and Sunny to figure out the Count's nefarious plan before he can implement it and abscond with the children. It always takes the three kids working together to foil the Count's plans.
The Series of Unfortunate Events is different from most other children's books in that people die and miserable things are done to the Baudelaires and their friends. All the while the author is warning the reader that if you are looking for a happy ending, you need to go somewhere else. Many parents are understandably concerned that the series is too dark for their children, but kids I know love these books. Through ingenuity, courage, and coordinated effort, the Baudelaires always manage to escape from Count Olaf's darkest efforts to capture or hurt them.
From the author:
Dear Reader,

I'm sorry to say that the book you are holding in your hands is extremely unpleasant. It tells an unhappy tale about three very unlucky children. Even though they are charming and clever, the Baudelaire siblings lead lives filled with misery and woe. From the very first page of this book when the children are at the beach and receive terrible news, continuing on through the entire story, disaster lurks at their heels. One might say they are magnets for misfortune.

In this short book alone, the three youngsters encounter a greedy and repulsive villain, itchy clothing, a disastrous fire, a plot to steal their fortune, and cold porridge for breakfast.

It is my sad duty to write down these unpleasant tales, but there is nothing stopping you from putting this book down at once and reading something happy, if you prefer that sort of thing.

With all due respect,
Lemony Snicket
Links:
A Series of Unfortunate Events – DVD – film starring Jim Carrey as the evil Count Olaf.