Reviews: Fiction
January 7, 2008
The Vanishing Act of Esme Lennox - Maggie O'Farrell
Iris, a single young woman with relationship problems, discovers that she has a great aunt who has been locked away in a mental institution for 60 years. Esme Lennox is the great aunt and because the institution is shutting down Esme is handed over to the care of Iris, her one remaining, functional relative.
The Vanishing Act of Esme Lennox
by Maggie O'Farrell is a beautifully written, haunting story of family secrets, denial, tragedy and betrayal. As the story unfolds the author carries us further and further into psyches of Esme, broken but not destroyed, and her sister Kitty, who is still hanging on, though wrecked with Alzheimer's. Why was Esme shut away forever at age 16, never mentioned by her family again?
Continue reading "The Vanishing Act of Esme Lennox - Maggie O'Farrell"
Posted by elise at 2:08 PM | Permalink | Email to a friend

June 20, 2005
Handling Sin - Michael Malone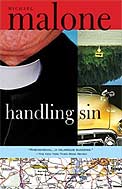 If you like rolicking, picaresque novels, you will love Handling Sin. Written in the '80s(?), it remains one of my favorites.
A mild mannered insurance agent is sedately approaching middle age, living out his comfortable life in a small No. Carolina town. He receives news that his vagabond father has passed away, but to receive his inheritance he has to track down his father's trumpet, last seen in the possession of a young, attractive black woman who may or may not have been his father's mistress.
The hero rounds up his S. Panza-like sidekick and off they go on a madcap quest across the South. After many hilarious adventures they also absorb a few life lessons. Can't really describe many details without giving away a few surprises. So give it a try.
Posted by mvestrich at 8:42 PM | Permalink | Email to a friend

May 10, 2005
The Kite Runner - Khaled Hosseini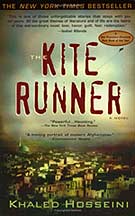 The Kite Runner by Khaled Hosseini, is a story of betrayal, love, and redemption set in modern Afghanistan. Amir, son of a wealthy Afghan businessman, is best friends with Hassan, the son of the household servant. Amir lacks the courage to defend his friend from the brutality of local bullies; this action and the resulting guilt and shame changes the destiny of both families.
The Kite runner spans over three decades of great upheaval in Afghanistan. We in the West knew so little about this country until the events of September 11th propelled the US to invade and oust the fundamentalist Taliban. There was a monarchy, then a democracy, the Soviets invaded, then they were expelled, the Northern Alliance and infighting among Afghan tribes brought destruction to Kabul, the Taliban - punitive, oppressive order. Hundreds of thousands of Afghans fled Afghanistan after the Soviet invasion. Most travelled first to Pakistan. Those who could, including in this novel Amir and his father, came to the U.S, where the immigrant story is so familiar - former generals and surgeons working gas pumps to stay alive. All hope is placed on the younger generation to succeed.
Continue reading "The Kite Runner - Khaled Hosseini"
Posted by elise at 7:08 PM | Permalink | Email to a friend

April 29, 2005
Extremely Loud and Incredibly Close - Jonathan Safran Foer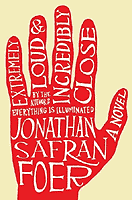 In Jonathan Safran's Extremely Loud, Incredibly Close we are introduced to 9 year old Oskar Schell, a highly intelligent, inventive, precocious boy coming to grips with the loss of his father who died when the World Trade Center collapsed on 9-11. Oskar discovers a mysterious key in his father's closet with the word "Black" written on the envelope that holds the key. He decides to interview every person in NYC's five boroughs with the last name of Black, and sets off every weekend, on foot to find them. At the same time a parallel story is unfolding with Oskar's grandparents, their diary entries and letters that help them come to terms with their own fractured lives, having lived through the bombing in Dresden.
Extremely Loud, Incredibly Close is wildly creative. It reminded me at the beginning of The Curious Incident of the Dog in the Night-Time. But Extremely Loud is much richer, and the characters' lives in more need of repair. There is a parallel too, in the Twin Towers and the destruction of Dresden, two generations apart. This book is sad and wonderful, funny and despairing, and vibrantly alive. Highly recommended.
Posted by elise at 11:26 PM | Permalink | Email to a friend

March 7, 2005
The Memory of Running - Ron McLarty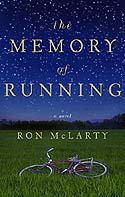 Smithy Ide is a 43 year old drunk - overweight, friendless, and when he can think, disgusted with himself. After the funeral of his parents who die in a car accident, Smithy finds an unopened letter to his parents from a mortuary in California. The letter says that the mortuary is holding the body of Smithy's sister Bethany, an indigent whose identity they've been able to match with dental records. Still in a drunken fog, Smithy finds his old Raleigh bike in their garage, and sets off down the road, flat tires as all. Thus he unintentially sets off on a bike journey across the country and in the process comes to terms with his life and the loss of his beautiful sister who couldn't escape the voices in her head.
Continue reading "The Memory of Running - Ron McLarty"
Posted by elise at 10:38 PM | Permalink | Email to a friend

February 20, 2005
The Facts Behind the Helsinki Roccamatios - Yann Martel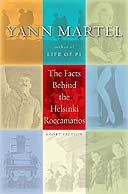 Yann Martel catapulted to fame with his extraordinary tale - The Life of Pi. In The Facts Behind the Helsinki Roccamatios Martel digs into his early works and presents us with four short stories, written before the Life of Pi. Of the four stories, the first two were for me the most memorable. The Facts Behind the Helsinki Roccamatios is a story of a young man helping his college friend as he struggles with and ultimately succumbs to AIDS. The two men meet often over several months and collaboratively create a story, whose narrative line loosely follows the major events of the 20th century, starting with 1901.
Continue reading "The Facts Behind the Helsinki Roccamatios - Yann Martel"
Posted by elise at 10:15 AM | Permalink | Email to a friend

February 13, 2005
The Curious Incident of the Dog in the Night-Time - Mark Haddon
The Curious Incident of the Dog in the Night-Time is told in the first person by Christopher John Francis Boone, a 15 year old autistic boy, who sets off on a detective mission to discover who killed his neighbor's dog. Christopher counts forward in prime numbers, can't tolerate the colors yellow or brown, avoids strangers, is easily overwhelmed by noise or crowds, and always tells the truth.
We don't often get a glimpse into the minds and worlds of people so different from ourselves. Author Mark Haddon takes us on a touching journey of how this boy's world unravels and comes together again as he bumps up against the very real human failings of those closest to him. We feel his anguish and also the comfort he finds in his world of abstract problem solving. The book has several mind-stumping math problems, that Christopher delights in solving for us. One in particular, the Monty Hall problem, was really annoying. It's the kind of problem that makes you sit down, take out a pen and paper and try to make sense of it. But you can't. Or most people can't. I think that is part of the interesting charm of this book. We the readers are as closed off to the world which Christopher inhabits, as he is to our world. As smart as I was in math, these problems confused me, made my brain hurt. As brilliant as Christopher is, it takes every ounce of his mental focus to take a simple subway ride.
Highly recommended.
Posted by elise at 12:47 PM | Permalink | Email to a friend

February 11, 2005
The Master Butchers Singing Club - Louise Erdrich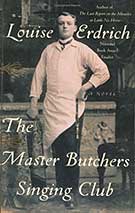 That Louise Erdrich likes to tell stories becomes obvious from the reading of her novel The Master Butchers Singing Club. She never races through a tale, but takes her time, dissecting every nuance in delicious detail. The book's central character is Delphine, whom we meet as she is returning home to Argus, North Dakota in the early 1930s with her balancing act partner Cyprian to care for her father, the town drunk. Delphine is a survivalist - a hard working, tough love, feet-firmly-planted-on-the-ground woman. She befriends Eva, the wife of the local butcher, Fidelis Waldvogel, who had immigrated to Argus from Germany after the first world war. Fidelis starts a singing club, the members of which make up many of the contributing characters of the story.
Continue reading "The Master Butchers Singing Club - Louise Erdrich"
Posted by elise at 11:19 PM | Permalink | Email to a friend

January 28, 2005
Skinny Dip - Carl Hiaasen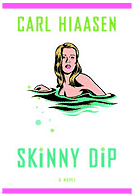 What a howler. Reminiscent of Mickey Spillane, Carl Hiassen's Skinny Dip starts with crooked sleeze-ball Charles Perrone throwing his wife off a cruise ship miles away from the coast of Florida. Unbeknownst to Chaz, his wife Joey, was a champion swimmer and athlete in college, and turning her fall into a dive, survives the fall, swims to near exhaustion, eventually latches on to a floating bale of marijuana, and is picked up out of the ocean by a retired cop Mick Stranahan. Joey doesn't understand why Chaz tried to kill her and spends the bulk of this hilarious story with Stranahan figuring out why and taking revenge by driving her husband crazy. The book is filled with great character sketches - Tool, a pain-killer addicted hired thug who gets reformed by the terminally ill old lady whose meds he tried to steal, Red Hammernut, the agribusiness tycoon who is paying off Chaz to falsify water quality records so he can keep his polluting enterprise up and running, and Karl Rolvaag, the homicide detective who keeps two albino pythons and when they escape is disturbed when the yappy dogs of neighbors go missing.
Continue reading "Skinny Dip - Carl Hiaasen"
Posted by elise at 9:08 PM | Permalink | Email to a friend

January 4, 2005
Dracula - Bram Stoker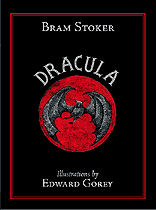 One of my earliest memories is of my father tiptoe-ing into our room at night, arms raised, saying in a low trebbly voice, "I vant to drrrrink yourrr blood!" He would then descend upon us shrieking kids and tickle us into giggling hysterics. The character of Count Dracula has so infused our culture - think Halloween costumes, Bela Lugosi, and "Count Chocula" cereal - yet who among us has taken the time to actually read the book that propelled this vampire into our national consciousness? Bram Stoker's Dracula wasn't the first vampire story every published but it is certainly the most popular.
Continue reading "Dracula - Bram Stoker"
Posted by elise at 8:05 PM | Permalink | Email to a friend

December 12, 2004
The Time Traveler's Wife - Audrey Niffenger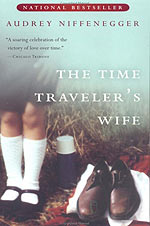 The concept of time traveling has been explored in many classic tales, but usually the time traveler goes back in time hundreds of years ago where there's no chance of running into someone she knows. What if you went back in time and actually interacted with your younger self, or forward with your older self? In Audry Niffenegger's The Time Traveler's Wife, the protagonist Henry De Tamble has a genetic disorder - "Chrono Displacement" - in which he unwittingly leaves the present moment and is transported backwards and forwards in time. As a middle aged man he travels back in time and meets is future wife when she is only 6 years old. He visits her frequently as she grows up, though when she finally meets him in the present time, he doesn't know who she is, because in the present, he is just meeting her for the first time. Time traveling is not as romantic a notion as one might think. It is dangerous for Henry as he is always transported naked, and therefore arrives naked, and often in freezing weather and around unsavory characters. Henry must learn to pick-pocket and steal, just to survive.
Continue reading "The Time Traveler's Wife - Audrey Niffenger"
Posted by elise at 11:56 PM | Permalink | Email to a friend

December 8, 2004
Straight Man - Richard Russo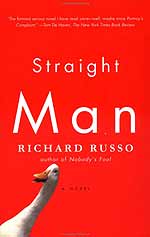 Henry Devereaux, Jr. is a wise-cracking interim chair of the English department of an unremarkable Pennsylvania college. While fending off intradepartmental pettiness and politics in the face of looming layoffs, Henry has to sort out the breakup of his daughter and son-in-law, crushes on co-eds, jealous imaginings of his wife with other men, his threatening to kill a duck (while holding a goose) that gets broadcast on the local news, and a pecker that refuses to pee.
Pulitzer prize-winning author Richard Russo's Straight Man is a situation comedy in the vein of TV's Fraser; every time Henry tries to extricate himself from one bad situation, he ends up in a worse one. The writing is excellent - witty, well paced, and the main character well-drawn as just an everyday guy just trying to get by and make sense the world.
Continue reading "Straight Man - Richard Russo"
Posted by elise at 12:50 PM | Permalink | Email to a friend

September 13, 2004
Jhumpa Lahiri - Interpreter of Maladies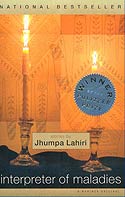 I think the Wall St. Journal review says it best, "Eloquent....a writer of uncommon sensitivity and restraint." Jhumpa Lahiri's first book of fiction, a collection of short stories - Interpreter of Maladies has won numerous awards including a Pulitzer prize. For anyone who loves short stories, this is a must read. Lahiri's stories are subtle, haunting, and beautifully written. From the Indian American couple recovering from still birth of their first child, to the epileptic girl who overcomes her patron's rejection to create a life for herself, these stories' characters are sensitively drawn, leaving them etched into our subconscious. What does become of the woman who guards the stairway of an apartment complex, only to be kicked out after she loses all of her life's savings?
My mother handed me this book a week ago and insisted that I read it. Once I started I realized I had already read it a year or two before. But I drank up the stories again, happily indulging in the beautiful writing.
Posted by elise at 4:00 PM | Permalink | Email to a friend

September 12, 2004
Middlesex - Jeffrey Eugenides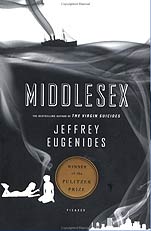 Jeffrey Eugenides' Middlesex is an epic story, the family history of Calliope Stephanides, a young girl who discovers at age fourteen that she is actually a boy, a hermaphrodite. Tracing the recessive gene that gives Cal his ingrown gonads, the story starts with Cal's Greek grandparents in Turkey, and courses through time to the present - their escape from the Turkish massacre in Smyrna in the early, their new life in Detroit, their son Milton and cousin's daughter Tessie, and on to Calliope's eventual discovery of himself.
From a purely historical perspective, Middlesex makes an interesting read. Eugenides colorfully paints the long gone or far away eras of Greek village life 80 years ago, the crossing of the Atlantic to Ellis Island, the struggles of young immigrants in a new land, working on the assembly line at the Ford factory, bootlegging operations over the Canadian border, the Detroit riots of the 60s, and the hippies of the early 70s.
Continue reading "Middlesex - Jeffrey Eugenides"
Posted by elise at 11:02 PM | Permalink | Email to a friend

September 1, 2004
Balzac and the Little Chinese Seamstress - Dai Sijie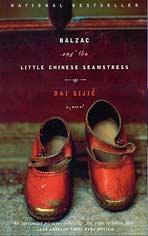 During China's cultural revolution, two best friends, sons of prominent intellectual families, are shipped off to countryside to live and work as peasants. Their daily routine is hopeless, hard, dangerous, and dull until they secretly obtain a Chinese translation of a Balzac novel, filled with romance and adventure. They memorize the story and use it to impress and educate a pretty local village girl with whom they are both infatuated.
Dai Sijie's novella, Balzac and the Little Chinese Seamstress, transports you to a remote village in China in the early 1970s where this little drama of love and hope is played out. You can almost touch it - the fields, the mountain cliffs, the opressing drugery, and the comical naiveté of villagers who become entranced with an alarm clock. It is lovingly written and translated from the original French. The author, Dai Sijie, was born in China, lived through the Cultural Revolution, and emigrated to France in 1984. At the conclusion of the book, the story all comes together; so if you wonder, "where is this going?" while you read it, as I did, don't worry, it will all make sense. It's not quite a novel, more like a long short story. A good read, I highly recommend it.
Posted by elise at 6:18 PM | Permalink | Email to a friend

July 27, 2004
The Rule of Four - Caldwell and Thomason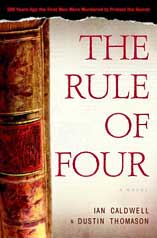 I was inspired to read The Rule of Four, the first novel of two recent college grads Ian Caldwell and Dustin Thomason, by a review from a bookseller's website As Yet Unpublished. The Rule of Four is a fast-paced mystery that takes place on the campus of Princeton University. It revolves around an effort to decode a literary work from the Renaissance, the Hypnerotomachia, a real book around which there has been a lot of actual scholarly research. (See Introduction to Hypnerotomachia by MIT press.)
Like the other Renaissance code-breaking murder mystery, The DaVinci Code, to which it is often compared, The Rule of Four includes a couple of murders, a loyal team of sleuths, and plenty of historical references. The main differences are that The Rule of Four is actually much better written than The DaVinci Code, it is much more intellectually stimulating, and it doesn't try to rewrite the history of the Catholic Church.
Continue reading "The Rule of Four - Caldwell and Thomason"
Posted by elise at 12:39 AM | Permalink | Email to a friend

June 5, 2004
Bridget Jones - Helen Fielding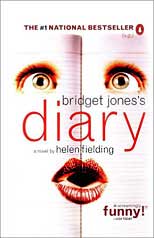 Helen Fielding's Bridget Jones books are the best antidote I can think of for the grumpies, in my case most recently induced by an unexpected 5 hour layover at SFO. Fortunately most airports these days carry small but decent book stores and even more fortunately in this particular instance the SFO bookstore carried Bridget Jones.
Cervante-esque in their humour, Bridget Jones's Diary and its sequel Bridget Jones: The Edge of Reason, carry us on a delightful romp through the life and loves of Bridget Jones, a thirty something London girl who can't quite seem to get anything right, but for whom life magically all works out in the end. The first book is loosely themed around Jane Austin's Pride and Prejudice, with the male love interest, who Bridget at first spurns, is a one Mark Darcy, a deliciously modern day character equivalent of the first Darcy.
When the Bridget Jones Diary first came out I was bemused to read some reviews, by men naturally, who were appalled by Bridget's shallow self-obsessions with weight, cigarrettes, drinking, and "shagging". Well my friends, believe it or not, Bridget's diary does indeed express the way that most of us single women think and feel. Which is exactly why it is so hilarious. Bridget is exposing our innermost insecurities and obsessions for the whole world to read.

Continue reading "Bridget Jones - Helen Fielding"
Posted by elise at 9:32 AM | Permalink | Email to a friend

October 14, 2003
The DaVinci Code - Dan Brown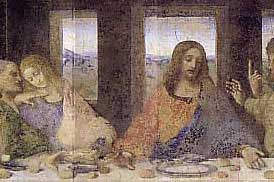 Dan Brown got it right this time, and The Da Vinci Code is a kick. It unfolds as a thriller wrapped in a riddle inside an enigma. The thriller races along as the characters solve puzzle after puzzle to crack the DaVinci Code. (Even his web site is fun - it presents a series of puzzles which need to be solved to get deeper and deeper into the site.) One can enjoy the thriller, or the puzzles, or what I truly found fascinating: the enigma behind it all. Was the message of Christ hijacked by the church hierarchy in the First Century, and later institutionalized into the Roman Empire under Constantine? Did heresy become orthodoxy?
Continue reading "The DaVinci Code - Dan Brown"
Posted by dd at 9:44 PM | Permalink | Email to a friend

August 27, 2003
Wicked - Gregory Maguire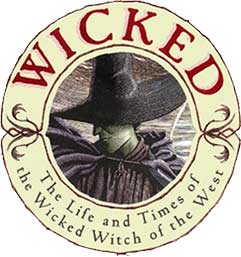 How did the Wicked Witch of the West, from Frank Baum's Oz stories, get to be so wicked? Gregory Maguire tells her story, in Wicked: The Life and Times of the Wicked Witch of the West
. Author of Confessions of an Ugly Stepsister, Maguire seems to revel in turning our beloved fairy tales upside down, and having us rethink our cherished notions of absolute good and evil. The Wicked Witch wasn't born a witch, nor wicked. In Maguire's delightful telling, we learn of Glinda's obsession with status and fashion, the Wizard's inhumanity, and the friendships, loves, and lost loves of little green Elphalba, the story's moral center, who is ultimately destroyed by innocent Dorothy. This tale is more real, and more like life as we know and experience it, than the original. There's always a different side to a story, and in the case of Oz, this is it. A great read from start to finish. I could not put it down.
Posted by elise at 10:43 AM | Permalink | Email to a friend

May 12, 2003
Life of Pi - Yann Martel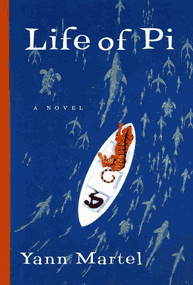 Yann Martel spins a magical story with Life of Pi. In this book, he recounts the boyhood of Piscine Patel whose parents were zoo keepers in India. Pi is fascinated both with God (simultaneously practicing Islam, Christianity, and Hinduism) and zoo animals. When the ship he is taking with his family and some of the animals sinks in the Pacific, Pi finds himself castaway on a 26 ft life boat with an injured zebra, an orangutan, a hyena, and a 450 lb bengal tiger named Richard Parker. Soon only the tiger and Pi are left on the boat and Pi is left to use his wits to survive the elements and keep from being eaten by the tiger. Pi realizes that he can't kill the tiger and must learn to become his master in order to survive the ordeal. The interactions with the animals and Pi's journey are all metaphors for living a spiritual life. The underlying current of the book is that Pi must master his own dark-side, his fear and despair with vigilance and compassion. Much like the Buddhist saint Milarepa who finally mastered the demons who were torturing him by accepting them and befriending them, Pi masters himself and the tiger Richard Parker. There's much more too it, but telling more would give away the story. Simply, the book left me with sense of wonder and sadness from how one man survived the tragedy of losing his family and the 7 month ordeal of being lost at sea.

Posted by elise at 10:56 PM | Permalink | Email to a friend

May 8, 2003
The Gift of Stones - Jim Crace
The Gift Of Stones is one of the most extraordinary pieces of fiction I have read in years.
A young boy live in a village of flint-knapppers in an unspecified land during Neolithic times. He is gathering molluscs by the shore one day when a band of marauders pass by. One of them shoots him in the elbow with an arrow, so his arm is amputated. Flint-knappers need two hands to perform their work, so he becomes the village storyteller instead. And these are his stories.
Jim Crace, the author, has the most lyrical voice I have read in modern fiction. This slim volume covers such a range of human experience, personal and social. Who wd ever think that a book placed in Stone Age times could so vividly illustrate the impact of rapid technological change on a culture, too.
If you like this one, you may also like Arcadia, also by Crace; a very different story and a very different tone.
Posted by mvestrich at 8:51 PM | Permalink | Email to a friend