Reviews: Audio book
May 18, 2005
The Devil in the White City - Erik Larson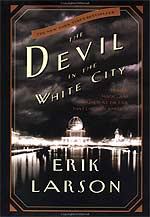 Erik Larson's The Devil in the White City is the true story of the building of the magnificent 1893 Columbian Exposition World's Fair in Chicago and the sociopath murderer H.H. Holmes who preyed on young women coming to see the fair. In his telling, Larson transports us to the late 1800s from when Chicago first wins the right by Congressional vote to host the fair, beating out rival New York City, through the two years it took to build the White City, to the fair itself, which brought in an estimated 40 million visitors during the short time it was open. Daniel H. Burnham, chief architect of the fair, led the extraordinary effort to build the fair, a feat no one thought could be accomplished in the time given. The fair drew the best engineers, architects, and designers the country had and forever transformed the shoreline of Chicago. The result was such a resounding success, Bernham imprinted grandeur into the minds of visitors who came from all over the country and set the course of American neo-classical architecture for the next fifty years.
A few miles away, in the Chicago suburb Englewood, a more sinister story was unfolding. Dr. H.H. Holmes built a boarding house on a full city block, complete with torture chamber and crematorium in its basement. On the first floor of the building Holmes ran a pharmacy, complete with bogus cure-alls, a restaurant, and several seemingly respectable businesses - fronts for countless fraud schemes.
Continue reading "The Devil in the White City - Erik Larson"
Posted by elise at 4:27 PM | Permalink | Email to a friend

March 26, 2005
Ireland: a Novel - Frank Delaney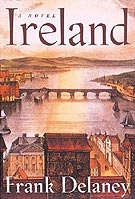 Ireland by Frank Delaney is the story of a young boy, Ronan O'Mara, who in 1951 at the age of 9 encounters an itinerant storyteller, who regales Ronan and others with magical tales, blending myth and fiction, of Ireland's past. Ronan is so taken with the storyteller and his stories that he starts a quest to find him, a difficult undertaking as the storyteller has no address - the storyteller wanders the countryside, staying with people who will feed him and give shelter in exchange for telling stories. Thus starts a life long passion for Ronan - collecting the folklore of Ireland, and uncovering Ireland's history.
The book's plot structure of Ronan's search for the storyteller is a convenient container for the true gems of this novel - wonderful, colorful stories covering the breadth of Irish history, from the making of the 5000 year old tomb at New Grange, the legend and fact of St. Patrick, Strongbow and the invasion of the Anglo-Normans, Daniel O'Connell and the repeal of the penal laws, to the 20th century troubles. In every breath of this novel, the Irish gift of gab is celebrated. I listened to the audiobook version of this book and I must say that this is most captivating audiobook I've heard to date. (Available also at Audible.com.)The author, Frank Delaney, does the narrating. With his various Irish accents he brings the stories alive in a way only possible through the spoken word.
Posted by elise at 10:27 PM | Permalink | Email to a friend

March 17, 2005
Catch Me If You Can - Frank Abagnale
Catch Me If You Can by Frank Abagnale is an amazing true story of the adventures of a master con artist and check forger. Of all the books I've "read" from Audible.com, this is among the most enjoyable. In his late teens, Abagnale posed as a PanAm co-pilot, getting lifts on airplanes for free to take him all around the country and the world, allowing him to pass bad checks behind the guise of a respectable airline pilot. By the time he was caught, at age 21, he had managed to bilk his victims, mostly PanAm, of over 2 million dollars. At that was 2 million in the late 60s, when the story took place. Posing as Frank Williams, Robert Conrad, Frank Adams, and Robert Monjo, Abagnale also managed to teach sociology at a college in Utah with a fake diploma, pass the bar exam and work in an attorney general's office, pose as a pediatrician and become a temporary resident supervisor at a hospital in Georgia.
Continue reading "Catch Me If You Can - Frank Abagnale"
Posted by elise at 1:16 PM | Permalink | Email to a friend

March 7, 2005
The Memory of Running - Ron McLarty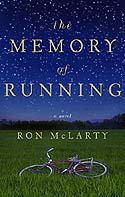 Smithy Ide is a 43 year old drunk - overweight, friendless, and when he can think, disgusted with himself. After the funeral of his parents who die in a car accident, Smithy finds an unopened letter to his parents from a mortuary in California. The letter says that the mortuary is holding the body of Smithy's sister Bethany, an indigent whose identity they've been able to match with dental records. Still in a drunken fog, Smithy finds his old Raleigh bike in their garage, and sets off down the road, flat tires as all. Thus he unintentially sets off on a bike journey across the country and in the process comes to terms with his life and the loss of his beautiful sister who couldn't escape the voices in her head.
Continue reading "The Memory of Running - Ron McLarty"
Posted by elise at 10:38 PM | Permalink | Email to a friend

February 11, 2005
The Master Butchers Singing Club - Louise Erdrich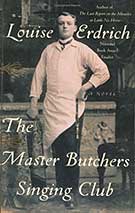 That Louise Erdrich likes to tell stories becomes obvious from the reading of her novel The Master Butchers Singing Club. She never races through a tale, but takes her time, dissecting every nuance in delicious detail. The book's central character is Delphine, whom we meet as she is returning home to Argus, North Dakota in the early 1930s with her balancing act partner Cyprian to care for her father, the town drunk. Delphine is a survivalist - a hard working, tough love, feet-firmly-planted-on-the-ground woman. She befriends Eva, the wife of the local butcher, Fidelis Waldvogel, who had immigrated to Argus from Germany after the first world war. Fidelis starts a singing club, the members of which make up many of the contributing characters of the story.
Continue reading "The Master Butchers Singing Club - Louise Erdrich"
Posted by elise at 11:19 PM | Permalink | Email to a friend

January 28, 2005
Skinny Dip - Carl Hiaasen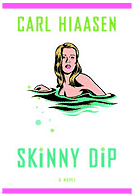 What a howler. Reminiscent of Mickey Spillane, Carl Hiassen's Skinny Dip starts with crooked sleeze-ball Charles Perrone throwing his wife off a cruise ship miles away from the coast of Florida. Unbeknownst to Chaz, his wife Joey, was a champion swimmer and athlete in college, and turning her fall into a dive, survives the fall, swims to near exhaustion, eventually latches on to a floating bale of marijuana, and is picked up out of the ocean by a retired cop Mick Stranahan. Joey doesn't understand why Chaz tried to kill her and spends the bulk of this hilarious story with Stranahan figuring out why and taking revenge by driving her husband crazy. The book is filled with great character sketches - Tool, a pain-killer addicted hired thug who gets reformed by the terminally ill old lady whose meds he tried to steal, Red Hammernut, the agribusiness tycoon who is paying off Chaz to falsify water quality records so he can keep his polluting enterprise up and running, and Karl Rolvaag, the homicide detective who keeps two albino pythons and when they escape is disturbed when the yappy dogs of neighbors go missing.
Continue reading "Skinny Dip - Carl Hiaasen"
Posted by elise at 9:08 PM | Permalink | Email to a friend

January 13, 2005
A Short History of Nearly Everything - Bill Bryson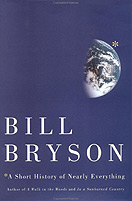 If only all science books were as entertaining as Bill Bryson's A Short History of Nearly Everything. Bryson explains the major scientific theories known to man with masterful storytelling skills. Weaving in richly researched details on the lives and characteristics of the foremost historical scientific figures, Bryson discourses on everything from the big bang theory and quantum physics, to paleontology and plate tectonics. As he put it, the book is about "...how we went from there being nothing at all to there being something, and then how a little of that something turned into us, and also what happened in between and since." Not just detailing what we know, Bryson describes how we learned what we now know.
Continue reading "A Short History of Nearly Everything - Bill Bryson"
Posted by elise at 7:12 PM | Permalink | Email to a friend

December 22, 2004
Kitchen Confidential - Anthony Bourdain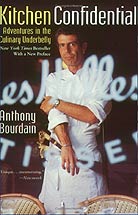 Kitchen Confidential: Adventures in the Culinary Underbelly
by Chef Anthony Bourdain tops many a recommended reading list on my favorite food weblogs. So when I noticed it on the book list at Audible.com
, narrated by the author himself, I snatched it up. It does not disappoint. Kitchen Confidential is a rollicking, crude, hysterical, and sobering account of life behind those kitchen doors at the best restaurants in New York City. Bourdain pulls no punches in his storytelling, honestly copping to his early career addictions with drugs and alcohol. Of note is his revelation of why he is not the best chef - that early on he went for the money instead of apprenticing himself at lower pay to the real masters. This book has tips on cooking like a chef - what knives to buy, kitchen equipment really needed, insights on why more restaurants fail than succeed, and presents Bordain's code of values and behavior that will help you succeed should you choose the professional culinary life.
Continue reading "Kitchen Confidential - Anthony Bourdain"
Posted by elise at 11:34 PM | Permalink | Email to a friend

December 12, 2004
The Time Traveler's Wife - Audrey Niffenger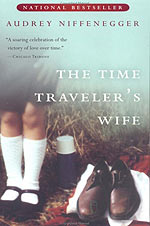 The concept of time traveling has been explored in many classic tales, but usually the time traveler goes back in time hundreds of years ago where there's no chance of running into someone she knows. What if you went back in time and actually interacted with your younger self, or forward with your older self? In Audry Niffenegger's The Time Traveler's Wife, the protagonist Henry De Tamble has a genetic disorder - "Chrono Displacement" - in which he unwittingly leaves the present moment and is transported backwards and forwards in time. As a middle aged man he travels back in time and meets is future wife when she is only 6 years old. He visits her frequently as she grows up, though when she finally meets him in the present time, he doesn't know who she is, because in the present, he is just meeting her for the first time. Time traveling is not as romantic a notion as one might think. It is dangerous for Henry as he is always transported naked, and therefore arrives naked, and often in freezing weather and around unsavory characters. Henry must learn to pick-pocket and steal, just to survive.
Continue reading "The Time Traveler's Wife - Audrey Niffenger"
Posted by elise at 11:56 PM | Permalink | Email to a friend

October 26, 2004
Tales of the Otori - Lian Hearn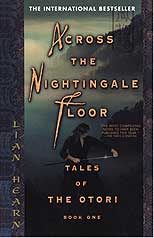 Across the Nightingale Floor, by Lian Hearn, is the first of three books in the Tales of the Otori trilogy, a fantasy epic placed in feudal Japan. Young Tomasu is rescued from a massacre of his village by Lord Otori Shigeru who gives him the name "Takeo" and adopts him into the Otori family. Takeo's village is destroyed by the evil warlord Iida because the villagers are members of a secret, peaceful Christian-like sect. Otori Shigeru, Iida's sworn enemy, discovers powerful ninja-like talents in young Takeo and together they plan to take revenge on Iida. Meanwhile, beautiful Shirakawa Kaede is held hostage by another warlord, an ally of Iida's. Betrothed to Otori Shigeru as a pretense for Iida to lure Shigeru into his castle, Kaede and Takeo meet and fall in love.
Continue reading "Tales of the Otori - Lian Hearn"
Posted by elise at 4:37 PM | Permalink | Email to a friend

September 12, 2004
Middlesex - Jeffrey Eugenides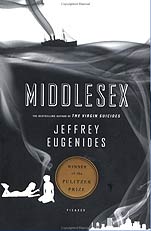 Jeffrey Eugenides' Middlesex is an epic story, the family history of Calliope Stephanides, a young girl who discovers at age fourteen that she is actually a boy, a hermaphrodite. Tracing the recessive gene that gives Cal his ingrown gonads, the story starts with Cal's Greek grandparents in Turkey, and courses through time to the present - their escape from the Turkish massacre in Smyrna in the early, their new life in Detroit, their son Milton and cousin's daughter Tessie, and on to Calliope's eventual discovery of himself.
From a purely historical perspective, Middlesex makes an interesting read. Eugenides colorfully paints the long gone or far away eras of Greek village life 80 years ago, the crossing of the Atlantic to Ellis Island, the struggles of young immigrants in a new land, working on the assembly line at the Ford factory, bootlegging operations over the Canadian border, the Detroit riots of the 60s, and the hippies of the early 70s.
Continue reading "Middlesex - Jeffrey Eugenides"
Posted by elise at 11:02 PM | Permalink | Email to a friend

July 31, 2004
The Hitchhiker's Guide to the Galaxy - Douglas Adams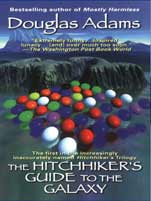 Seven or eight years ago I had the privilege of hosting Douglas Adams at my home in San Francisco for a brainstorming meeting on a game project (which eventually became Starship Titanic). I had heard of The Hitchhiker's Guide to the Galaxy, aka H2G2, but hadn't read it. What I had heard was that it was very funny - Monty Pythonesque humor applied to sci fi. Wanting to get a rise out of Douglas, I made him some tea and served it in a ceramic mug from Japan with a little ceramic frog hiding in the bottom of the cup. Douglas sipped his tea coolly, and when the frog emerged from the depths of the tea Douglas gave a little startled grunt, caught my eye and laughed, and continued to drink his tea. As I expected, unflappable.
Now years later, and three years after Douglas' untimely passing, I am finally enjoying what brought Douglas his initial fame. The Hitchhiker's Guide to the Galaxy is the first book in a five book trilogy in which our unsuspecting hero Arthur Dent narrowly escapes the Earth seconds before it is demolished to make way for an interstellar highway. Arthur escapes with his colleague Ford Prefect, who reveals to Arthur that he is actually from another planet and was working on a guidebook to the galaxy before getting stranded on Earth. Catching a lift with the cooking crew of the Vogon ship that destroyed Earth, Arthur and Ford are subjected to the torture of Vogon poetry before being ejected into space, only to be picked up by Zaphod Beeblebrox, the galaxy's BMOC, with his Heart of Gold improbability spaceship.
Continue reading "The Hitchhiker's Guide to the Galaxy - Douglas Adams"
Posted by elise at 9:02 PM | Permalink | Email to a friend

July 26, 2004
Fast Food Nation - Eric Schlosser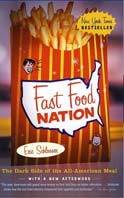 So many people had recommended Fast Food Nation by Eric Schlosser that I bought the audiobook on Audible.com and listened to all 9 hours. I have mixed opinions about it. On the one hand Schlosser does a wonderful job describing the history of the fast food industry with terrific case studies of McDonalds and Carl's Jr. Visionary entrepreneurs brought America efficiently prepared meals at prices low enough to make the food affordable to all. Schlosser also expertly delves into the the structure and participants of the entire industry, from the meatpackers and potato farmers to the franchisees and corporate marketeers. The research effort that went into this book are well deserving of praise. I was especially bothered to learn about how in-bed fast-food marketers have become with our public schools, with the schools pimping junk food to students in order to raise revenue. It is shameful that we are trading off the health of our children for the tax dollars that should be going into our schools.
Continue reading "Fast Food Nation - Eric Schlosser"
Posted by elise at 4:19 PM | Permalink | Email to a friend

July 24, 2004
Ender's Game - Orson Scott Card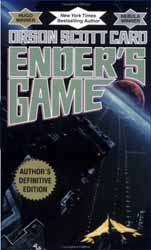 Winner of the Hugo and Nebula Awards, Ender's Game by Orson Scott Card revolves around a young boy, Ender Wiggin, who is selected to train to become a fleet commander to protect earth from an alien invasion. The training takes place at a distant Battle School in space where the young and brilliant Ender is repeatedly pushed to his limits to mold him into what he is needed to be, to become the next commander and win the war against the invaders.
I've read Ender's Game 5 or 6 times in the last 15 years, and recently listened to the audiobook. I honestly think that Ender's Game is the best piece of science fiction I have ever read. Card is unusual as a science fiction writer in that he delves deeply into the psychology of his main characters and their complex inter-relationships. Nothing is as black and white as it may seem. There is goodness and honor in Ender's enemies as well as a willingness to manipulate and kill in Ender. Ender is constantly faced with hard choices upon which his survival and the fate of the planet depend.
Continue reading "Ender's Game - Orson Scott Card"
Posted by elise at 10:14 PM | Permalink | Email to a friend